I was the only intro diver left that wanted to go for the fourth dive, which luckily meant that I could go along with the certified divers (deeper and longer)!


It was 7 am, and it was cold. I did my backwards roll out of the boat and the water hit me. Surprisingly it was quite a comforting temperature. I was experienced by this time and the only thing that struck a little fear out of me was the fact that this time, our location was in open water. I wasn't near beach, I wasn't near a bay - I was just randomly in the middle of the ocean.


Me and sleepy turtle


I dove deeper and deeper to still only see blue waters, until I was near the floor and saw the standings of huge coral castles. Open water called for more space I guess, and the vastness of these corals were fantastic. I think this area was called Langford reef or spit. I swam like a dolphin as my buttocks and thighs hurt from normal kicking.
A little grumpy


It was early enough to catch a turtle awakening from its sleep on coral bed. I could barely see the turtle until it opened its eyes to peer at me. I was in awe. Everyone wanted to catch a sight of a wild turtle in its waters and I was the lucky few. I hovered near its great aura and moved on. I saw sea slugs that looked like colours of candy. The coral astonished me so much that I actually said "HOLY SHIT" under water to only get a response of sea water filling up my mouth. I saw a small shark species that bury themselves into the ground to camouflage.


I didn't want to get out but the air tanks were running low so I was taken out of my little sea empire. I dried off and then we all chilled as the boat roared back to shore. We had breakfast and I caught sight of dolphins far away jumping up and down.


Crazy dude


I didn't want to leave but two hours later, we were back at Abel Point Marina. We said bye to everyone and headed back to have lunch. We craved fish and chips - the good kind - so we heard from locals where a good fish and chips joint was. I didn't order barramundi as the Mama's Boys Restaurant still scarred my mind. I had John Dory and chips.
After two days of no reception


Afterwards we strolled through the Airlie Markets, where the boys bought me an Australian Queensland Boulder opal necklace. Its going to remind me where my home is at now.


Beach combing


We set up camp by the shady beach. Carlos went to sleep for 3 hours and I went on a hunt to get my shot glass souvenir. Curious cat came out to play and I spent hours looking through the sand, rocks and mud for creatures and coral. There were HEAPS of little hermits, mud crabs and fishes. I mucked around with the seagulls and the mud got me a few times as it sucked up my thongs and feet.
I brought this dead crabby back to sleepy Carlos


As the Whitsunday Islands are a protected national park, I dared not take any beach combing souvenir so instead I took the opportunity at Airlie to find some rare, washed up beauties from the Great Barrier Reef. I found the coolest piece of sun bleached coral and it fed my desire for bigger and better. We found the biggest dead clam shell thing and fantasised that there would be a pearl inside and as we peered in, a HUGE MUDCRAB plopped out to scare us all!
I put pyjama pants on top because it was chilly hahaha


Sea bald patch


I ended up finding a miniature coral castle that made me super happy, what made me not so super happy was the dead worm inside. There was also a half alive crab wedged in a crevice. Carlos fetched it out and left it on the ground. I didn't want to touch it but I hate purposely killing things so I made Chris bring it back to the ocean.
Sea waves


Sea oil and a mosquito bite under my eye


The boys went to get beer as I still had wine leftover, and we walked past a hidden stone grill place right around the corner from the shitty Mama's Boys restaurant. We were SO ANGRY because in Melbourne stone grill dining is about 70 bucks while here was just 20 bucks, AND we also spent about 20 bucks per dish at Mama's Boys on our first night at Airlie.


We decided to share a rump steak stone grill between the 3 of us in ten minutes before we had to run to the bus stop. We hopped on the bus and cried goodbyes.


The bus had a half hour break so I ate a chocolate bar and found the ugliest creature that I have ever seen. I don't even know what its close to looking like, it had a point like a scorpion, a body like a fat cockroach and the colour of white paint. It had trouble walking through grass and looked clumsy. Uggughhh makes me shiver, it was huge! The photo doesn't justify its size but it was the size of my forefinger!


We finally got to Mackay, walked to a pizza shop and ordered two large gourmet pizzas. A New Orleans pizza that had potato, chicken, sweet chilli sauce, cajun spices and a Pear, Blue Cheese and Walnut pizza.


We caught a taxi to our motel, and had the most epic shower as we cleaned the grime and sea salt off. We watched Man vs. Wild then River Monsters with Jeremy Wade where he goes on a hunt for sawfish. Surprisingly, he goes deep into the territories of Australia to find the vanishing species. For how vicious they could be, I have never ever ever heard of sawfish existing in Australia! For those who don't know what they are, they look like this: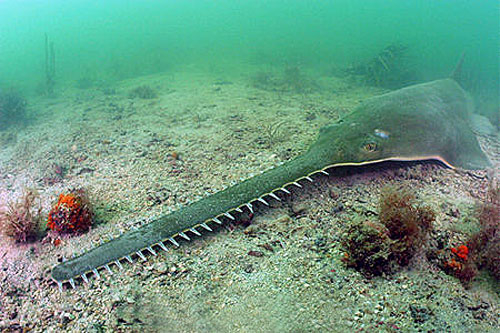 Does anyone know what this ugly mystery is?


Carlos zonked out from his beers and snored so loud all night. Chris and I had huge troubles sleeping and I was woken up multiple times throughout the night. Thanks for the music, Carlos.